Referenzen
ANDERSON, E.A. (1973)
National Weather Service river forecast system - snow accumulation and ablation model. National Oceanographic and Atmospheric Administration (NOAA), Tech. Mem., NWS-HYDRO-17, U.S. Department of Commerce, Silver Spring, MD.
BEVEN, K.J. & KIRKBY, M.J. (1979)
A physically based, variable contributing area model of basin hydrology. Hydrol. Sci. Bull., 24 (1): S. 43-69
BRAUN, L.N. (1985)
Simulation of snowmelt runoff in lowland and lower alpine regions of Switzerland. Zürcher Geographische Schriften, 21, ETH Zürich
GREEN, W.H. & AMPT, G.A. (1911)
Studies of soil physics. Part 1. The flow of air and water through soils. J. Agricultural Soc., 4: S. 1-24
HAMON, W.R. (1961)
Estimating Potential Evapotranspiration. J. Hydraulics Division, ASCE, 87 (HY3): S. 107-120
HAUDE, W. (1955)
Zur Bestimmung der Verdunstung auf möglichst einfache Weise. Mitt. Dt. Wetterd., 2 (11), Bad Kissingen (Dt. Wetterdienst)
LIGHTHILL, M.H. & WHITHAM, G.B. (1955)
On kinematic waves. 1. Flood movement in long rivers.Proc. Royal Society London Series A, 229: S. 281-316.
MONTEITH, J.L. & UNSWORTH, M.H. (1990)
Principles of environmental physics. Second Edition, Edward Arnold, London
OKE, T.R. (1987)
Boundary layer climates. Second Edition, Routledge, London and New York, 416 pp.
PESCHKE, G. (1977)
Ein zweistufiges Modell der Infiltration von Regen in geschichtete Böden. Acta hydrophys., 22 (1): S. 39-48
PESCHKE, G. (1987)
Soil moisture and runoff components from a physically founded approach. Acta hydrophys., 31 (3/4): S. 191-205
RICHARDS, L.A. (1931)
Capillary conduction of liquids through porous mediums. Phys., 1, 318-333
SEVRUK, B. (Ed.) (1986)
Correction of precipitation measurements. Zürcher Geographische Schriften, 23, ETH Zürich
THOMPSON, N., BARRIE, I.A., AYLES, M. (1981)
The meteorological office rainfall and evaporation cal-culation system: MORECS (July 1981). Hydrol. Memorandum, 45, The Meteor. Office, Bracknell, UK
VAN GENUCHTEN, M.T. (1980)
A closed-form equation for predicting the hydraulic conductivity of unsaturated soils. Soil Sci. Soc. Amer. J., 44 (5): S. 892-898
WENDLING, U. (1975)
Zur Messung und Schätzung der potentiellen Verdunstung. Zeitschrift für Meteor., 25 (2): 103-111
Stahl, K., R. D. Moore, J. M. Shea, D. Hutchinson, and A. J. Cannon (2008)
Coupled modelling of glacier and streamflow response to future climate scenarios Water Resour. Res., 44, W02422, doi:10.1029/2007WR005956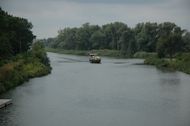 WaSiM-News
15.05.2021

Neuer Release verfügbar:
WaSiM 10.06.00 -> Mehr »